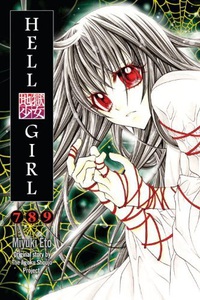 This is the seventh, eighth, and ninth volume of the Hell Girl manga series all in one book, created by Miyuki Eto. It was released on October 26, 2010.
This page will give the details of the plot in each chapter in Volume 7, 8, and 9.
This last exciting collection reveals how Hone Onna was betrayed in love and follows the travails of Takuma, a boy accused of being a devil child. Then the detective helping Takuma suddenly goes missing. Can Ai Enma, the Hell Girl, save them before it's too late?
Community content is available under
CC-BY-SA
unless otherwise noted.